PRAŽSKÁ STOVKA UT 130 km / 5350 m+

PROFIL: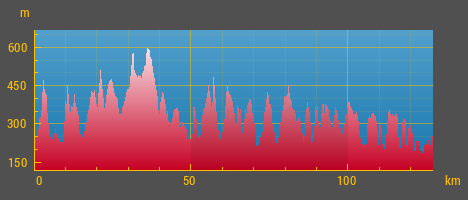 PRESENTATION:
Beroun, school 2ZŠ
map
Friday December 4th from 21:00 till 22:30
START:
Beroun, school 2ZŠ
map
- Friday December 4th, 23:30
Transport to start: Via regular train and bus connections Praha - Beroun.
FINISCH:
Praha - Modřany, school of Prof. Švejcar
map
till Sunday December 6th
STARTING FEE:
3rd part of registration November 1st till NOVEMBER 30nd 2015 – starting fee 600 Czech crowns (not-returnable). It's possible to delegate paid registration to other person at latest 48 hours before the race start.
Foreign competitors can pay at presentaion in original price.
REGISTRATION:
For registration we're using
sportovniservis.cz
TIME LIMIT:
We don't want to stress competitors by deadlines. But please keep in mind you can't expect full service on Control Points, refreshment stations and restaurants if you'll be on track longer than 30 hours.
ROUTE: Exact route will be posted a week before the race in order to stop training on the trail. The route goes through beautiful but difficult hilly and rocky terrain around rivers Berounka. Moustly on marked touristic routes.
Every competitor will get detailed itinerary at the start. There's not much asphalt on the trail even it's close to the capital city. Competitors are obliged to stay on the route. If they go wrong way the'll have to return back to the trail exactly at the place they "left" the trail. And then to carry on.
CONTROL POINTS (CP's):
Each participant will get control card at a presentation. There'll be CP's on the way. Either with organizers or "self-service" CP's. Also some "secret" CP's. A participant is obliged to record CP's to his (her) control card (there'll be a pen of different color for marking at every CP). In case of missing CP or not giving over the control card to organizers, the participant won't be clasified.
CAUTION:
Pražská stovka is taking place at any weather condition. Expect snow and ice. Everybody participates on his (her) own risk. Organizers don't take any responsibility for possible physical or financial damage of participants!
At sections leading on roads it's necessary to follow the traffic rules. In towns and villages move on footways. If it's possible.
On the route there're many parts leading above steep cliffs. For moving on snow and ice on these passages you need good balance and to be very carefull!
Organizer don't provide pick-up of participants which cannot get to the finish line. There are many places where mass transportation is available.
MANDATORY EQUIPMENT:
Each participant must have enough clothes for actual weather forecast. Be prepared for not planned long stops. We expect that everybody has enough wisdom. It's not possible to check everyone. But a participant with not suitable clothes will be disqualified. For all marches you need a good battery or a head lamp. Sun-rise is at 7:44 and sun-set already at 15:59!
Take enough Czech crowns for buying food at restaurants and pubs on the route or for eventual unexpected breaking up.
RECOMMENDED EQUIPMENT:
Map KČT, GPS with loaded route, first-aid kit. Other equipment should be choosen according to weather forecast. Expect mud, snow, ice!
REFRESHMENT:
There'll be possibility of refreshment at every 15-30km. There'll be "our" refreshment stations but most chances will be in pubs and restaurants (food and drinks). Take enough Czech crowns.
LUGGAGE AND POSSIBILITY TO SLEEP:
Transport of luggage from start to finish ensured.
There's a chance to sleep on floor in own sleeping bag from Sunday.
PARKING PRAGUE - MODŘANY
Map paid car parks